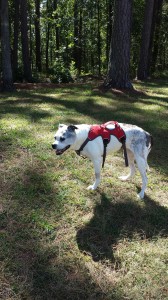 Hi everybody.  I wanted to give you all an update on Sasha.  I'm happy to say that she is doing very well.  Her left leg continues to be a little painful, but she is getting around just fine.  The last few days have been particularly good.  I think part of it is that Liliana and I are back to a normal work schedule, and when we return home (we commute together), Sasha greets us with all the other dogs by barking and making a variety of sounds to express her displeasure with us for having been away for too long!  She has a bit of a temper when she is upset.  She then trots over to us for a quick pet, and then runs to the French doors to be let out in the back yard.  All the other dogs do the same thing, but Sasha is COMPETITIVE, and she barks and tries to work her way to the front of the pack.  Liliana and I are afraid that she will get knocked over and hurt by the other dogs, but you should see the excitement and intensity in her eyes!  She continues to surprise and amaze us!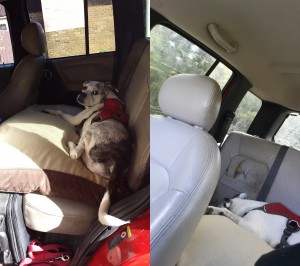 I wrote, in my last post, that Sasha would be going back to UPenn to be re-vaccinated.  Liliana and Sasha made the trip on their own this time.  They arrived in Philly on Wednesday, September 18th, and spent the night in a hotel.  Sasha has always enjoyed hotels, but this time was her first time being in one without the whole family.  From what Liliana told me, Sasha didn't seem to mind.
The next morning, the girls headed out to the hospital.  As usual, Sasha was super happy to see Dr. Mason.  Liliana captured this short video of their reunion on her phone.
The re-vaccination went well.  In Sasha's discharge papers, Dr. Mason wrote "Sasha tolerated her 5th vaccination relatively well."  As expected, Sasha developed a fever, and in fact, it was the highest fever recorded in any dog participating in the trial.  The fever was brought down by the use of fluids and anti-inflammatory treatment.  Sasha also vomited several times, but this was brought under control with an anti-emetic.  Dr. Mason wrote, "Her white blood cell changes today are not typical of what we usually see, and one possible explanation is that her immune response is somewhat suppressed by her tumor burden.  Her clinical signs following vaccination, however, do indicate that her immune system was able to 'see' the vaccine, and respond in the immediate post-vaccination period".
Liliana and Sasha said their goodbyes to Dr. Mason on Friday, 20Sep, and started driving to Hagerstown, MD to spend the night with my aunt and my grandfather.  Sasha enjoyed being out in the yard in the cool air, but I think, even more than that, she enjoyed the food!  She got to eat some Lil' Wieners, Lil' Smokies, Cuban chicken salad, and some of her mom's taco!  She was spoiled, but that's ok – she's been through a lot.
I was very happy to see my girls return on Saturday.  I missed them, but I know that they had a good time out on the road, in the hotel, and at my aunt's house.  Plus, Sasha got to see her friend, Dr Mason.  I know that made her happy.  We know the disease is progressing, but we hope that, along with Sasha's strong spirit and stubbornness, the vaccine will help keep her with us for longer.  For now, we're just going to keep enjoying life.