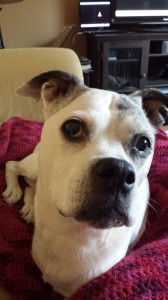 Our last Sasha update was Jan 6th.  Since then, Sasha has had 2 more check-ups/treatments.  And she has been doing well, for the most part.
Her check up on January 23rd showed no disease progression since December 2013.  This was such awesome news!
Her next checkup was on February 21st.  Putting her on the scale revealed that she had lost 2.2 lbs since her visit in January.  Her appetite had been good, so we attribute the weight loss to decreased activity, and a loss of muscle.
Sasha and daddy at NCSU:
On Wednesday March 19th, we'll be heading to Pennsylvania.  We are visiting Carlos' mom who has been ill, and we will be taking Sasha for a visit/check-up at Penn Vet.  Last time we were at Penn was in September.  This is the longest time between visits to PA,  and we are excited to see how Sasha will react to seeing Dr. Mason again.  I am sure it will be a treat for Sasha to see her favorite doctor.
Sasha has been enjoying going for rides in her garden cart:
We do get her out of the cart and let her do whatever she feels up to at the time, and what she feels up to often surprises us.  Check her out at Mordecai:
And at a school near our house where we often take her and Argus for short strolls:
Sasha has been eating well; here she is, enjoying a Taco: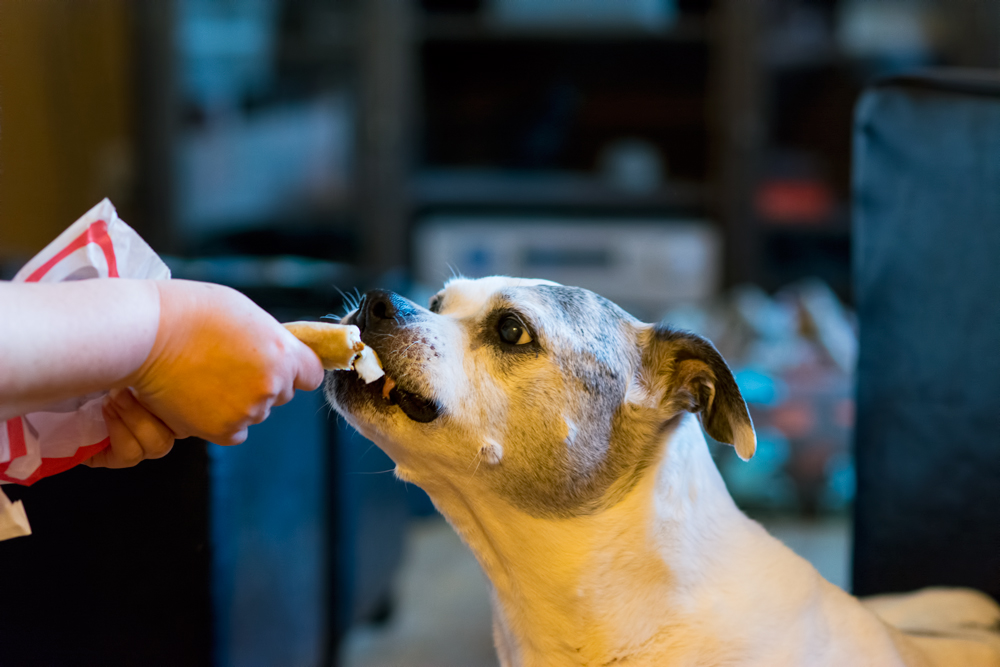 Update within an update:
This post was supposed to go live several days ago.  We had planned on writing, basically what you've already read above, and maybe adding another photo or two.  Unfortunately, Sasha has taken us for a bit of a ride over the past couple of weeks.  She seemed uncomfortable for a few days, and experienced a loss of appetite.  She also started coughing, which of course, made us think about the tumors that had developed in her lungs.  We decided to let her ride it out for a little and see how things progressed.  Happily, Sasha started to feel better.  She was getting up to greet us when we got home from work, which had not happened for a little while.  She was getting around much better in the yard, and at the neighborhood park.  Carlos even decided to see how she would react to seeing her Kong flying disk, and she was amazing. As soon as she saw what Carlos had in his hand, she turned on her laser focus and locked on to the disk.  Carlos got her worked up a bit and then tossed the disk just a few feet away.  It was amazing, Sasha got up and took off after the disk

  Carlos threw the disk once more, and then finished the game with a little tug-of-war.  We cannot tell you the happiness that seeing Sasha go after her flying disk brought to our hearts.
Sadly, after the awesome day with the flying disk, Sasha, again, seemed to feel under the weather.  She would often be restless while laying on one of the dog beds.  She sort of spins herself around in circles seemingly in search of a comfortable spot and position, but she never quite seems to find the perfect bump to lay her head on, or valley to sink her body into.  Carlos usually likes to help Sasha get up when it's time to go outside to do her business (we have slippery floors), and she usually does her 50% of the work to get up, but recently she hasn't seemed very motivated to go outside.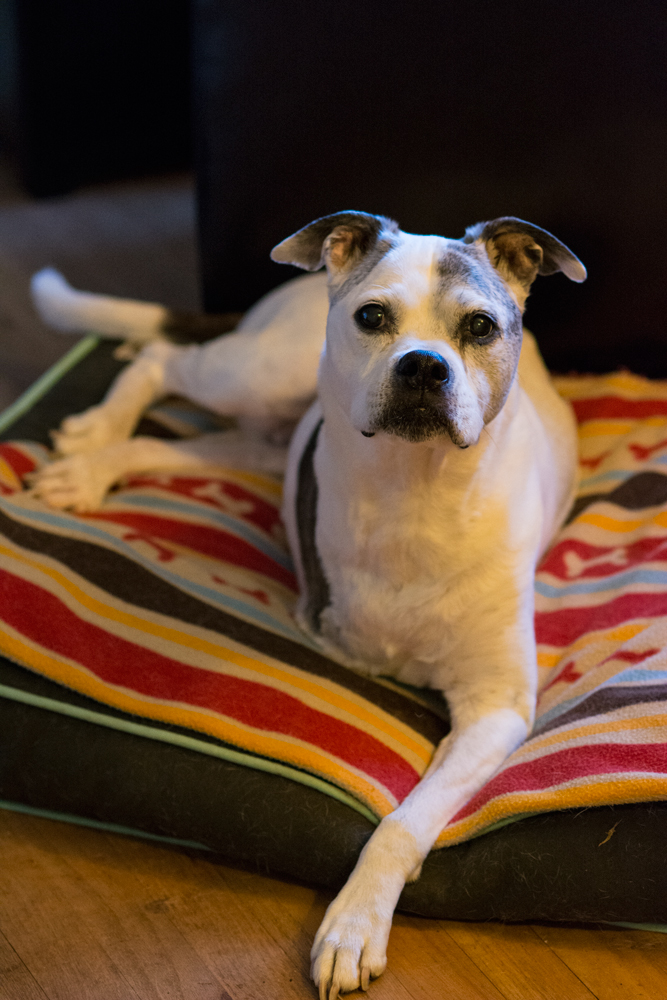 Even though Sasha is not showing a great deal of motivation to go outside, she does not seem depressed either, and is still very much interested in what we are doing, and what we might have in our hands.  Carlos often tells me that she's always listening attentively to what I'm doing when out in the kitchen or another room, and I see the same thing in her when Carlos is the one in another room.  Her appetite has change a little.  She's very interested in treats and human food, but in the mornings she sometimes does not finish her regular food.  One good thing is that the cough she had only occurred a couple of times in the morning and she has not coughed again.  We are hoping this is good news.  And we are hoping that now that she is no longer on Cephalexin, that she will bounce back to normal in a couple of days.  She was on Cephalexin because she broke a nail and hurt one of her toes.  To prevent infection, the Dr. prescribed antibiotics and this particular one can cause upset stomach even if its taken with food.
If being off the Cephalexin does not help, then I'm afraid that Sasha's discomfort if the result of something more serious.  To help her with this, we are not sure if we should increase her pain meds and/or maybe also add some radiation treatment to her arm (no more radiation to her back end).  It is difficult to think this way, but we need to consider whether or not it is worth putting Sasha through more treatments (and recover from those treatments) just to buy her a few more weeks.  We have to realize that when we think of buying her more time, we may actually be thinking more about buying US more time with her.  We want to do what is best for our girl, no matter how difficult it is on us.  If we had our way, Sasha would be with us forever!

We will write again soon to let you all know how Sasha is doing, and what her next step will be.