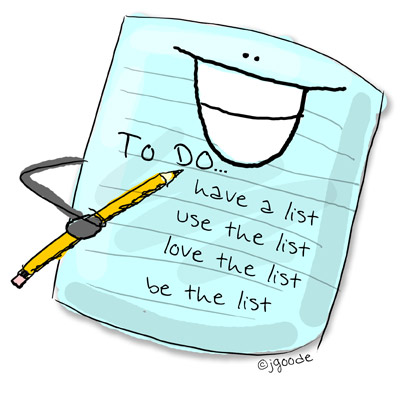 As everyone, we have a lot of things we need to do in our house.  Things we NEED to get done and things we'd like to because it would be nice for the house and would make us happy.  We also have non-house  things we need to save up for.
I find the easiest way to keep track is to have one big list with categories.  Under each category I'll list the "to do" item and put a line through it when its completed.  I also add items as needed.  Once in a while I re-write my list.  because if I have too many things crossed out, I feel it looks too messy – I like clean lists = )
Here are some of the things we need to get done and/or save up for:
Important needs:
Jeep Engine
Sasha's amputation and chemo treatment Updated May 20, 2012
Save up for Tommy's surgery (rear left leg)
Tires for Carlos' WRX
Find out why Jeep is overheating/repair  September 30, 2012

Repair WRX's AC
Tires for my Jeep  Updated May 20, 2012
Important wants:
New Laptop Updated September 30, 2012
To Do:
Remove kitchen linoleum
Install laminate the floors
Redo storage unit!!
Organize both storage units and carport
Create under-eaves storage as seen here but maybe 1/2 the size so that we can install a zinc next to it
Sand and stain coffee table
Sand and stain side tables?
Install rod and curtains above patio doors
Clean all molding in house
Connect laminate floor to hardwood floor
Paint living room 1
Paint living room 2
Make or buy curtain rod for living room
Make or buy curtains for living room
Install molding in the fireplace living room and dining area  Updated September 30, 2012
Paint paneling in kitchen
Sand and paint kitchen cabinets
Convert carport into garage?? and move washer/dryer out??
Furnishings/Projects to Slowly Save Up For:
Sofa for fireplace living room
Fire place insert  Updated May 20, 2012 –  Completed Winter of 2011
Rug for living rooms
1 large rug or 2 small rugs for our bedroom
Rug for 2nd bedroom
Rug for office
New curtains for french patio doors
Furniture for fire place living room Purchased the Avery sofa!
Redo deck most of it got done the 4th of July weekend
Wooden fence  We have decided to keep the chain link fence and save our pennies for other things
Furnishings we will attempt to build:
2 beds from Ana White
Modular office desk from Ana White  or like this DIY desk from little HOUSE BLOG
Buy or build a new TV/media console
Buy or build night tables
Outdoors:
Fix crawl space leak
Clear gutters
Fix broken gutter!

  Updated May 20, 2012
Make something to hold our firewood  Updated May 20, 2012
Clear and improve vegetable garden
Clear and improve vegetable bed
Check pots we have for planting in spring
Plant asparagus under kitchen window?—>next season
Clear-up under living room window – heavy duty tools will need to be rented
Rent a pressure washer to wash house (we got a pressure washer – used but free and works great!)

Small Miscellaneous:
DIY a dry erase calendar or, DIY a chalk board as seen here
Organize and paint coat closet
Organize offce/3rd bedroom (build a storage day bed??)
Paint pantry
As you can see, our list is LONG and I didn't list everything – it would just be too much!  As many things as we'd like to get done, we need to prioritize.  We'd love to buy another house w/more land…at least 1/2 – 3/4 of an acre!  So, with this in mind.  We need to be smart about the things we want to/need to/should get done.
Do you keep lists?  How do you organize them?  How do you tackle your projects, one room at a time or every room at once, little by little?  I'd love to hear your thoughts and experiences.
~ Lili