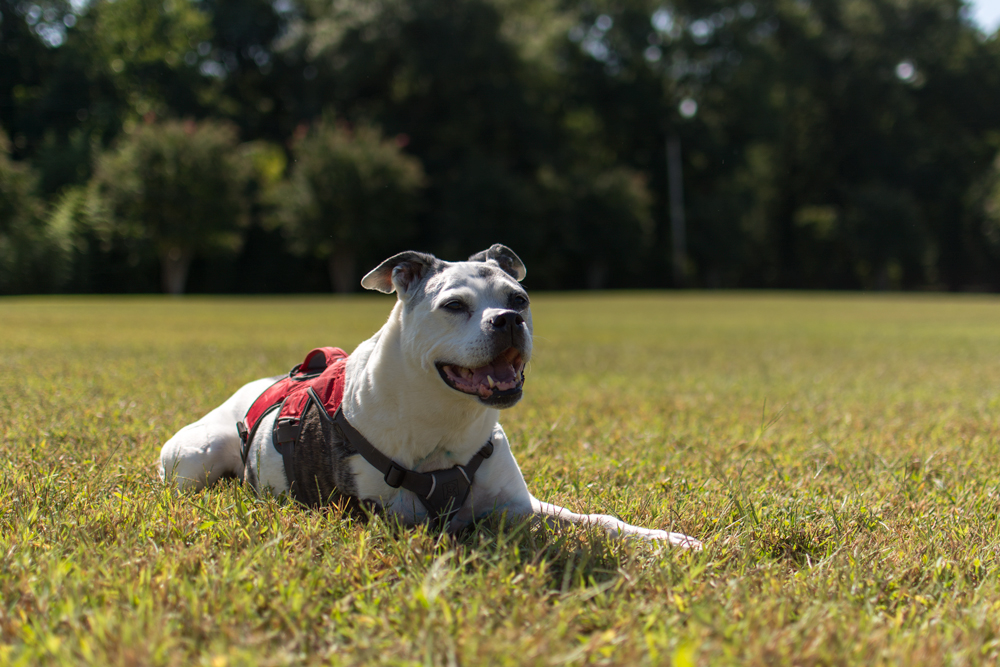 Hi everybody.  It is time for another Sasha update.  The first thing that I want to tell you all is that September 14, 2013 marks eighteen months since Sasha's amputation.  We certainly are not celebrating the amputation, but we are so happy to still have Sasha with us.  She wasn't supposed to survive this long, but Sasha is a fighter!  She is a strong and stubborn girl, and she doesn't know how to give up.  We love Sasha so much, and we will continue to be by her side every step of the way and help her as best we can.  Thank you to everyone who comes here and reads this blog and sends their love, thoughts and prayers.  We all hope that medical intervention helps our loved ones feel better and live longer, but I think that love may be the most powerful medicine, anesthetic and motivation to keep going that there is.  Every day that Sasha continues to beat the odds is a gift that will last us a lifetime.  Here's to more months!!
On with the update – Sasha has been feeling well and has been much more active than she had been a few weeks ago.  I think the palliative radiation did its magic, and now Sasha is very mobile once again.  I still like to help her down the deck stairs to do her business, but sometimes she is simply too fast for me to catch when I open the door to the backyard.  She has been a little spoiled when it comes to eating, but you'll read more about that in a bit.
Sasha is going back to UPenn to see her friend, Dr. Mason, and to be re-vaccinated.  I am sure Sasha will be so excited to see Dr. Mason as she always is.  Liliana and Sasha will be making the trip to PA on their own this time due to my work, the short notice of this visit, and all of our other dogs needing care.  I wish I could go, but I know that Liliana and Sasha will have a great mother-daughter bonding experience during their time together at the hotel and on the road.
Since it is late on Tuesday night, and the girls head out for PA tomorrow, I am going to copy and paste an e-mail here that I recently sent to Dr. Mason.  I sent the e-mail on September 10 (Sasha has continued to improve since this e-mail).
Hi Dr. Mason.  I am forwarding you radiographs of Sasha that were taken at NCSU on 06Sep2013.  They also did a bone scan; you may be able to request those views if you like (you certainly have my permission if that is needed).  The news is not good.  It appears that your suspicions were correct.  The doctors at NCSU say that Sasha has a lesion on her humerus, and that her femur and pelvis look worse.  The way that Dr. Wilcox explained the lesion on Sasha's humerus is basically this: If it were not for the fact that she knows Sasha has osteosarcoma, she would not feel certain about what she sees on the radiographs.  It is only because she knows Sasha's condition that she feels confident that the cancer has spread to Sasha's humerus.

Sasha went in for palliative radiation to her rear this past Friday, and for her humerus this past Monday.  So far, we cannot really tell how much better Sasha is feeling, if at all, due to the radiation.  She is using her special manipulative powers to gain sympathy from Liliana and me.  Here is the story with that: Sasha has been whimpering a lot since we brought her home on Friday, and even more after Monday's session at NCSU.  She has been looking at us with a sort of empty expression and parted lips so that her gums are visible.  When I brought her home on Friday, I was very concerned because she refused to use her legs.  I assisted her in the house and in the yard via her harness, and her rear legs were absolutely jello-like.  Her feet were limp, and they actually turned so that the top sides rolled and dragged as I assisted her around the house.  Now, here is the other side of the story: After seeing how bad Sasha looked, I was scared and my sister and I were talking about how she looked.  Liliana walked past us into our bedroom and I guess she took too long for Sasha's liking, because to my sister's and my amazement, there went Sasha.  She was doing her three legged gallop in search of Liliana!!  There's more.  Sasha seems to only whimper when someone is with her.  If she is left alone in a room, the whimpering mysteriously stops!  She seems to have no appetite unless there is Feta cheese in her kibble, or some very special soft food mixed in with her kibble.  For this special treat, she came galloping out to eat with the rest of the pack – something we have not had her do for a few days.  It seems that the right motivation makes her legs feel better and her appetite improve!
So, as I said earlier, and as I told Dr. Mason, Sasha is feeling much better than she had been.  We've taken her out to a couple parks, and she has really enjoyed herself.  The weather is cooling down, so that will help perk Sasha up, too!  We'll write again soon to let you know how Sasha's trip to PA goes.  Wish her well!