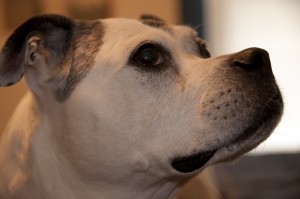 History was made on July, 10, 2012, when Sasha underwent her first round of treatment in the Mason Bone Cancer Study at the University of Pennsylvania School Of Veterinary Medicine.  The study takes a novel approach to fighting cancer using a recombinant L. monocytogenes vaccine to, hopefully,   cause anti-tumor activity of the body's immune system.  Liliana and I drove to Pennsylvania with Sasha, Argus and Alli (the Three Musketeers) on Monday.  We are lucky that my parents still live in PA, so we had a place to lay our heads for the duration of Sasha's stay at UPenn.
We met with Dr. Nicola Mason Tuesday morning.  I cannot say enough good things about Dr. Mason.  Entering Sasha into the first phase of a clinical trial was not an easy decision to make.  Allowing her to be exposed (intravenously) to Listeria monocytogenes bacterium and leaving her in the care of people that we do not know at a large University did not make the decision any easier, but Dr. Mason put our worries to rest and our minds at ease.  Whenever Liliana and I speak with Dr. Mason, we always feel that she genuinely cares about Sasha, and she makes a great effort to ensure that we understand everything that will happen during the trial.  She also called us several times each day while Sasha was in her care to give us updates about how our girl was doing.  We feel very fortunate to have been able to enroll Sasha in this innovative approach to treating bone cancer in dogs, humans, and other animals.
Administration of the Listeria monocytogenes vaccine began at about 2:00 PM on Tuesday and lasted approximately one hour.  The first sign of evidence that Sasha had been exposed to the 'bug' came a few hours later.  She developed a mild-to-moderate fever which peaked at 103.8 (normal temperature for dogs is 101.5) at around midnight.  The fever was easily kept under control with IV liquids and a fan blowing on Sasha.  The fever was a good sign, as it indicated that Sasha's immune system recognized the Listeria, and was actively fighting it.
The idea behind the Mason Bone Cancer Study is to train Sasha's immune system to find and attack cancer cells.   Normal cells divide by a process called mitosis.  Mitosis occurs at a regular rate, and each cell produces two identical daughter cells.  Cancer cells are essentially bad copies of parent cells.  The DNA of the parent cell is not replicated perfectly during mitosis, and mutant cells are born.  These mutant cells do not behave normally.  They do not die when they are supposed to – a process genetically hardwired into each normal cell called apoptosis.  Instead, cancer cells multiply, often at accelerated rates, and can form tumors.  Note: not all tumors are cancerous, and not all cancer cells form tumors, i.e. leukemia.  Unfortunately, the mutant cancer cells are not so different from normal cells that the body's immune system recognizes them as a threat.
The Listeria bug used in the Mason Bone Cancer Study has been genetically modified to express a protein called, Her2/neu.  Sasha's cancer cells also produce this same protein.  By injecting the Listeria into Sasha, the hope is to elicit an immune response.  Since the listeria used expresses the Her2/neu protein, Sasha's immune system will become programmed to recognize the protein as a dangerous invader and attack it.  The hope is that her immune system will now also recognize any cancer cells in her body as dangerous invaders and attack them, as well.
The day after Sasha's vaccination, bloodwork showed that she was mildly anemic and that her platelet count was lower than normal.  These counts returned to normal the following day.  Dr. Mason explained that the likely cause for the low platelet count was the vaccination caused her platelets to adhere to the lining of her blood vessels, thus removing them from the bloodstream, and causing the low reading from the collected blood.  The temporary low count of Sasha's red blood cells (anemia) was probably due to her blood being diluted as a result of the intravenous fluids she received to keep her temperature in check the prior day.
More bloodwork was performed on July 12th.  The results showed that Sasha's liver enzymes were on the rise.  Her elevated liver enzymes, ALT (Alanine transaminase) and AST (Aspartate transaminase), are likely elevated due to inflammation caused by the vaccine.  Similar findings were documented in human patients that received a comparable Listeria vaccination.  Dr. Mason told us that Sasha's elevated liver enzymes were not something to be alarmed about but that they should be monitored.  She asked that we schedule an appointment with Sasha's regular veterinarian, Dr. Neuenschwander, to do follow up bloodwork on Wednesday or Thursday of this week.
Dr. Mason said that Sasha was a trooper throughout her whole stay at UPenn, and took all of the poking and prodding in stride and without complaint.  The only sign that Sasha may have been feeling under the weather is that she did not seem to have much of an appetite.  Dr. Mason made several attempts to get Sasha to eat, including hand feeding her, but Sasha was not interested until she was presented with some yummy canned food.  Again, our gratitude to Dr. Mason for taking such good care of Sasha.
We are back home in Raleigh, NC now, and Sasha is doing great.  She is still being a little picky with her food; however, we believe that her appetite is fine.  Sasha is a smart girl, and she learned quickly that by turning her nose up to her regular kibble, she would be offered something tastier.   She retrieved her Kong flying disc several times this morning and was as fast as ever!  We hope to take her swimming sometime before the return trip to Philadelphia.
Thanks to everyone for reading about Sasha's battle against cancer, and Dr. Mason's innovative work.  Thanks to Dr. Mason and her team at UPenn School of Veterinary Medicine.  Thanks to my parents for providing me and  Liliana with food to eat and a place to sleep.  Thanks to Greg Goldberg (basically my brother-in-law) for staying at our home in Raleigh and taking care of our other dogs while we were away.
I will continue to chronicle Sasha's progress here on Lili's Notes.  Please come back to see how she's doing!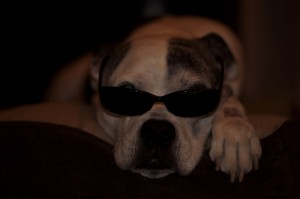 PS.  I'm famous!  Check out this article about me and the Mason Bone Cancer Study in the Philadelphia Inquirer.