These are the members of our pack.  I sometimes call them our SWAT team.
And now, for a bio of each of the dogs in casa Ruano.  From oldest to youngest, and coincidentally, the order in which they joined our family ( Sasha, Argus, Alli, Shelby, and Tommy).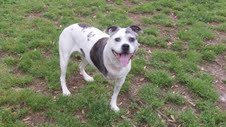 Sasha.  An American Bulldog, born on October 24, 2000.  Check this post about how Carlos and I chose her.  While I grew up with dogs, they were outdoor dogs and not part of the family.  Sasha was my very own first dog.  I recall wondering if she would be more Carlos' girl, but she turned out to be my girl = )  I often call her my precious, or chiquita bonita.  I lover her to death.  Unfortunately, she was recently diagnosed with Osteosarcoma.  She is doing great, and I am sure she will be with us for a long time.  If you have any questions about how we are dealing with her diagnosis, her amputation, the research Carlos has done, etc, please don't hesitate to ask.
Sasha only goes to the yard for her business, and if we are going to play frisbee, other than this, she likes being an indoor dog.  Though she loves to go for walks, whether at a park or just around the neighborhood, she loves to swim (Ocean and creeks), and we do our best to find places where she can frolic in the water.   She also loves the snow.  To keep up with Sasha, go here.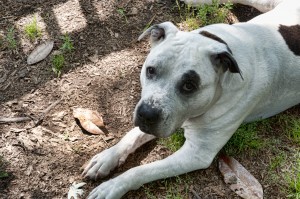 Argus.  Also an American Bulldog.  As far as we know, he was born on December 14, 2000.  Though we did get him at a pet store, he originally came from a farm in Kentucky, so he comes from a working line of ABs.  We chose his name after the Odysseus' faithful dog in Homer's, The Odyssey.  Although Sasha is my girl, Argus is a very special boy.  He has, what I think is the best temperament.  He does not know fear, however, his love and acceptance of other dogs abounds.  Something we find strange is that he loves older people.  Once while driving around, in search for a possible future home, he jumped out of our car and started walking next to an older man on the sidewalk.  Thank goodness the man did not get scared, but I think it was that he could see Argus meant no harm; he was just a happy boy walking along his side.  Also, when Carlos' grandmother was sick, he behaved differently than his usually hyper, jumpy self.  He would approach her slowly and remain by her side for her to pet him, or he'd just lay underneath her feet.  Ma would put her feet on-top of Argus, and he'd stayed like that for a long time.   Argus is kind to humans and his pack, he's a gentle soul.  He is our happy boy, our big guy.  Read more about Argus, here.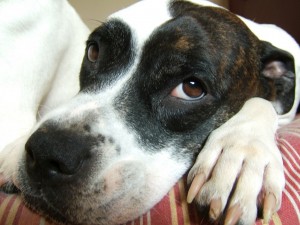 Alli came along on November 19, 2002 and is Argus and Sasha's puppy. Alli is their prodigy.  She is an example of dogs learning from other dogs.  Alli never had an accident in the house, and although we know she learned from her mom and dad, it still amazes us.   This is something Carlos is very happy about, as he was the one doing the majority of the clean up = )  Alli is the best at understanding our faces and motions, and she is never wrong!  Something very nice about Alli, and that many seem to miss for some reason, is that she is very warm.  She is a sweet, sweet girl and her body is like a little oven.  So, she is the perfect companion on a cold night.
Alli loves to run in the yard, go for walks and hikes, and chase the other dogs.  However, to our surprise, she is not fond of swimming, especially in the Ocean.  The first time she saw the Ocean it was in Maratha's Vineyard.  Carlos and I stepped out of the car for a walk and because she had not ever seen the Ocean, we brought Alli along.  While walking, the tide came in and touched her feet and she immediately jumped away.  Each time she'd approach the water, when the tide would come in, each time she'd jumped away, again and again.  It was cute and funny.  If we want a dog to walk along our side on the beach, Alli is perfect.  More on Alli, here.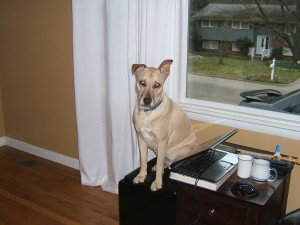 A few months after our move from PA to Raleigh, NC, on December 8, 2005,  Shelby came to our home.  She is our first adoptee.  I came across her picture while cross-posting emails about dogs in need of rescuing before being put to sleep.  Although in our home we were going through some rough times, I could not bare knowing she would killed.  Yes, Shelby was on death row.  I faxed in my adoption application a couple of days before her time was up, and a day before she was scheduled to be PTS, I picked her up from a shelter in Greenville, NC.  She is a funny girl with a clownish personality.  We have no idea of her lineage, I was told she was German Shepherd/Pitbull mix.  We can say that she is a tough girl (she won't back down to anyone, other than her humans), and she is the most wild of the pack.  Some Shelby's nicknames are: Blondie, Chewbacca, Dingyote, Peanut Butter, and Jar Jar Bing (I know its Jar Jar Binks, but I like it the other way more = > )  Something we think its funny is that Shelby holds grudges, so we need to keep an eye on her for a little while after she and another dog had a disagreement.  Even with her attitude, there's never been a scuffle in our house.  Each dogs knows his/her place and each is respectful of the leaders (us, then Argus and Sasha).  Check out more of Shelby, here.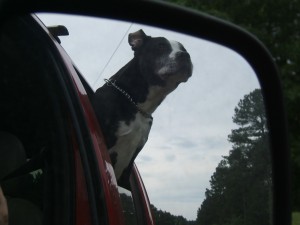 Last but not least, we have Tommy.  On a Sunday afternoon, on our way home from the beach, we found him on one of the busiest streets in Raleigh – we were about a mile from our home.  When we didn't see people near him, we immediately turned around (even tough we had the other 4 dogs with us) to try to help the poor guy.  With no people around, the only thing we could do was take him home to later look for his owner.  Carlos took a leash from the car to walk him to our house, and I drove home to let the pups out, do their business and then put them in a bedroom while we made arrangements for this little guy.  On his way home, Carlos started calling him Tommy.  That should have been a sing, but it wasn't, or at least I didn't admit it.  Tommy had a collar, but  no ID.  The following morning we took him to the vet to check for a microchip, which he didn't have.  The vet noticed T had mange, so we decided it to have our vet give this guy a full check-up.  He ended up having three types of worms and the mange.  After a couple of weeks with no signs of his owner, we decided to spay him and put him up for adoption.  We had several people interested, but the didn't seem serious about adopting him.  Once someone did seem truly interested and serious about meeting him, I mentioned to Carlos that I was leaning towards keeping him.  He was already a member of the pack, he was accepted immediately, by all of the dogs, and we had been taking care of his medical needs.  So, it was decided that Tommy would be our fifth and last member.  By the way, Tommy is a Pitbull, and I despite knowing their bad rap, had reservations and concerns.  I am happy to admit that I was proven wrong on my concerns.  Tommy is a baby, and I think he truly believes that.  He sweet boy who loves everyone and everything, and helps us around the house to dispose of cardboard boxes, the empty rolls of tissue and paper towels, helps me shred magazines, and get rid of flies; a little helper he is = )   To read more about Tommy, go here.
A pack of five.  Carlos and I never thought we would end up with five dogs., but even though five seems like a lot of dogs, and it is, we are very lucky in that they are really good dogs; they listen and respect us, and this makes all the difference in having one, two, or five dogs.  We have decided to not add anymore members to the pack, but we will still help stray dogs around the neighborhood when we can.  At this time, to add another dog or even foster, would not be fair to our current pack nor to ourselves.
We have a full-house, but I wouldn't have it any other way.
"Dogs are not our whole life, but they make our lives whole."