Henry is a beautiful Alaskan Malamute who was scheduled to participate in the Mason Bone Cancer Study at The Pennsylvania Veterinary School.   He was going to be the 7th dog in the study, and would have received his vaccine in last week
Carlos and I thought we were a bit crazy, driving 8 hours for Sasha to receive this vaccine.  Robin, Henry's mom, was making the trip from from Santa Fe, NM up to Philadelphia, PA!  And, she was going to be staying in Philadelphia,  for about 2 months!  Given that the vaccine is within three week intervals, it made sense for her to find a place where she and Henry could call home, during the trial.  Kudos to Robin, Henry's mom, for her willingness to make such a trip!  Our 4-legged friends are definitely worth it!
Unfortunately, Robin slipped while taking out the trash and was taken to the ER.  She has a bi-malleolar, tib fracture and dislocation and will be needing surgery.  Needless to say, she will not be able to drive for up to four months post her surgery, making it impossible for Henry to  be able to receive the vaccine.
Here is Henry!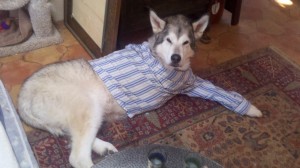 Don't you just love him in that pajama top?!  And those ears!  I love the ears!  "The better to hear you with, my dear."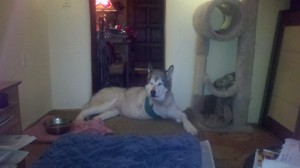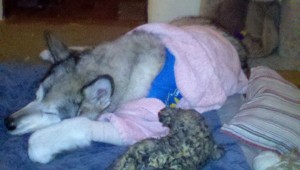 Carlos and I were so sad to hear about what happened to Robin, and bummed that Henry will not be going to UPenn.  We wish there was something we could do.  If we were closer, we'd take him to UPenn ourselves =)
We hope Robin has a speedy recovery.  We send a big hug to Henry and hope that he continues to do well.