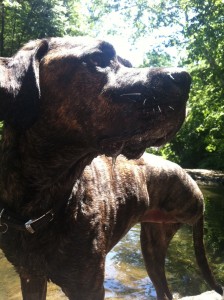 On May 31, 2012, Dolly, a six-year old dog, and her owner Rachel, received the sad news that Dolly had osteosarcoma.  Since her diagnosis, Dolly has had her rear left leg removed has received two treatments of carboplatin chemotherapy.  Rachel learned of the Mason Bone Cancer Study going on at the School of Veterinary Medicine at the University of Pennsylvania, and had Dolly screened for the Her2/neu antigen; she tested positive and Dolly is on the list of dogs scheduled to participate in the study.  If all goes according to plan, she will go to UPenn on about the third week of September to take her turn in receiving the L. Monocytogenes vaccine.
Rachel found Dolly about five years ago in a Philadelphia shelter, and the two have been inseparable ever since.  Rachel says, "[Dolly] is very social and has lots of doggie friends."  Rachel's sister, Sarah, is mom to a super cute dog named Rita.  Dolly and Rita are best friends and like sisters to each other.  Rita is shorter than Dolly, and can often be seen walking under her big sister.  Rachel says, "They are Yin and Yang, short and tall, reserved and social, old and young, but the one thing that's equal, is their love for each other.  It's very sweet."  "When I realized Dolly was losing her leg," Rachel writes, "I somehow managed to joke that Rita would just have to walk under her at all times, holding her up.  She does that in a way."
Rachel tells us that Dolly was depressed and in a bit of a funk after having her leg amputated.  I'd say, if ever there was a good reason to be a little melancholic, losing a major appendage would be one such reason!  The two days following the amputation were "incredibly difficult," according to Rachel, but love and fortitude got her and Dolly through that painful time.  "It took Dolly a little while to get the hang of stairs, and going to the bathroom on three on legs," wrote Rachel, but, "more worrisome, was her attitude in the days/weeks following her surgery."  To lift her spirits, Rachel took Dolly for her favorite hike on the Wissahickon Trail.
Check out Dolly having fun at Wissahickon in this video!
Rachel says that the hike brought back the old Dolly, and, "now she is back to her goofy, playful, eternally curious self."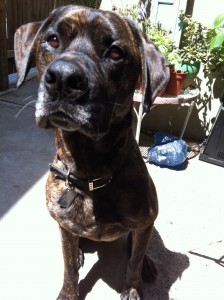 Thank you, Rachel, for sharing Dolly's story with us.  We wish you and her all the best, and hope that she gets along in the Mason Bone Cancer Study just as well as Sasha has.  We hope to continue to share Dolly's progress as the weeks, months-years go by.  Make sure you come back to see how she's doing.