Our Sunday started late.  I got up at 9:45 a.m., let the dogs out, fed them and jumped in the shower.  Carlos got up shortly after I did, and while I was in the shower, he got breakfast ready.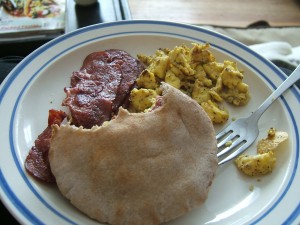 Scrambled eggs, turkey bacon, whole wheat thin bread from Trader Joe's, coffee, and water.
We finished up making our home "tomato cages."  Unfortunately, we neglected them for a while, and they grew strangely, but they are doing great and we have many tomatoes growing.  This is how they looked before we build the cages.  I did not take a picture when we were done.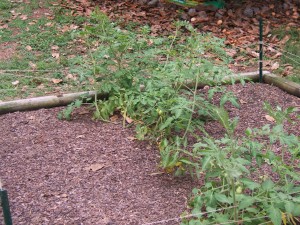 Here's a picture of some of the tomatoes.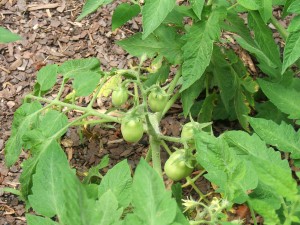 I also baked Jamie Eason's Turkey Muffins.  I usually make them as balls, but I used the muffin tin this time…we call them, "turkey balls" =) they came out great!  I'll share the recipe -because I made a few changes- late in the week.  But in the meantime, here is a picture:
Ready for the week!
On a concern note, we found a bump on the outer part of Tommy's lip; we don't like how it looks.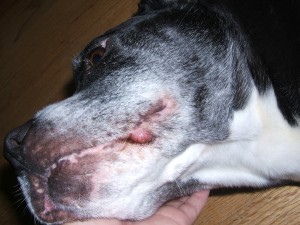 He is going to the vet first thing Monday morning.  Fingers crossed the bump is nothing to worry about.
Lunch was really good!  I cooked some ground beef (drain the fat), added a can of black beans and a jar of Trader Joe's Salsa Verde.  When I served it, I sprinkled less than 1 tbsp. of cheese.  I served it with a couple of yellow corn tortillas from Whole Foods, toasted in the toaster over, and we also had a big salad on the side.  Take a look.
Even though I did not use any seasoning, the dish came out a bit salty, but not salty enough to not enjoy…we enjoyed it!  Especially with the homemade salsa made with special peppers from Mexico sent from my mom =)  I promise to share that recipe, one day  =)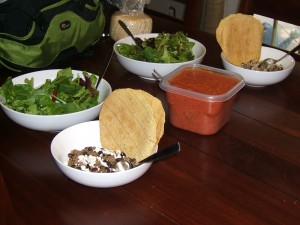 We also went to the gym.  It was leg day (my favorite!).  I had not been having a good day, I was stressed and I did not want to workout.  Carlos reminded me that if I did not go, I would later feel guilty and would be further away from achieving my goal.  So, to the gym we went.  And I did push myself, but it was obvious it was not a good day.  However, it is better to have worked out, than to have missed the gym.  I'm always reminded that no matter how tired I am I do prefer to have worked out.
For dinner, I baked some green and we had the left over ground beef, but I added some left over rotisserie chicken I had left from Friday.  We also had a glass of red Zinfandel.  Sorry, no pictures…my hands were busy eating =)
I hope everyone has a wonderful week.  I have a couple of updates to share, and I will do so later this week =)
XO,
~ L.
PS.  Posts to do list (reminder for myself, lol!):  post Jamie Eason's Turkey Muffins recipe, post training for past week.