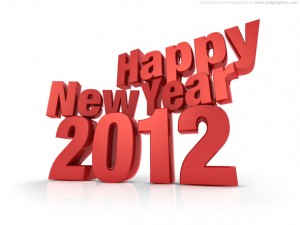 Welcoming the New Year has given new meaning to the phrase, "time flies," for me.  I cannot believe 2011 is already over!
A rundown of our Holidays…
First, our free Christmas tree: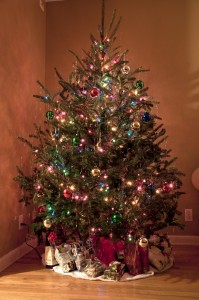 I think it came out lovely!  This was the first time I was in charge of putting the lights on the tree.  Carlos did lend a hand, but he didn't do it all like he usually does.  And yes, it was free.  Since Carlos and I are still searching for jobs, we decided that we would just use our little artificial tree, which is quite pretty by the way.  Six days before Christmas, Carlos saw an ad on craigslist (he's always looking for goodies on CL) about someone who was offering Christmas trees for free to whomever wanted them.  Carlos quickly sent an email to the individual who posted the ad, and the next day he told me that he needed to go out, and would be back soon.  When Carlos returned home, he called me to our carport, and lo and behold, we had a Christmas tree.  It was a nice one too!
We didn't buy a bunch of presents for each other, but we are very happy with the few things we each received.  We did splurge on one thing – an extra large Big Shrimpy dog bed for our furry kids.  We bought it at our local pet store, Phydeux.  The bed is huge, but all 350 pounds of our five dogs can lay on it together.  They all really like the bed, and we got a great deal too!  The bed normally retails for well over $200, but we got it for $150.  It feels strange to me to write that $150 is a great deal for a dog bed, but the thing is huge and it's made really well with tough materials.  The shell of the bed is extremely liquid resistant, and he filling is inside of a second, rip-stop nylon shell.  It's awesome!  All of the dog bed that we've purchased in the past lost their resiliency well within a year, but I think this bed will stay cushy for a long time.  This big bed will also allow us to get rid of a few old beds, making our space look better.
What else did we do?  Oh yes, we ate.  A lot!  We fell a tree or two, and cut up a bunch of wood to use in our wood stove next winter (more on that later).  New Year's eve came and we ate again.  A lot.  We had a bunch of snacky type foods, which is kind of our tradition for New Year's eve,  and we had a bottle of champagne.  On New Year's day, we ate a lot more.  We also had a second bottle of champagne in the fridge, so we enjoyed some mimosas with brunch.  Our holidays were fun, and as usual it was just the two of us = )
Hope you all had a great Holiday and that you all are ready to tackle 2012.  Wish you all the best!