About five years ago, my husband and I switched from traditional commercial laundry detergents.  We had heard about Charlie's soap, a small local company making natural laundry detergent.  Back then, we could only buy it at a couple stores or online on their website.  Anyway, we made the switch and we loved it.  It saved us money because the amount needed for a full load is only 1 tablespoon, much less than the amount needed if we used say, Tide.  Also, there was no need to use dryer sheets, which in turn saved us more money, and saved us from the possible effects of the chemicals in the sheets.  With Charlie's soap, clothes come out soft from the dryer and if I hung them to dry, they were still soft, unlike when I used 'regular' detergents.  It was a win, win.  Save money and be green = )
A good while after we started using Charlie's soap, I read this post by Yellow Brick Home.  It got me thinking about homemade laundry detergent, but I didn't make any right away.  I was happy using Charlie's and it was convenient and cheaper than what we had been using.  After loosing my job back in April, I needed to find more ways to be frugal, so I decided it to give DIY suds a try.
I purchased large boxes of Borax and Washing soda on Amazon, and got the large boxes.  I also purchased the Fells-Naphtha, however, I over paid for it at Amazon.  You can find Fells-Naptha for $.99 at Walmart!
I got to work as soon as I had all of these ingredients.  Followed the directions (listed below) and Voilà!, I had home made laundry detergent.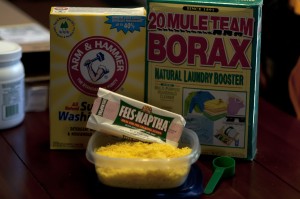 The tools you will need for the process are a mixing bowl, cheese grater, measuring cup, spoon and a storage container.  First step is to un-wrap your Fells-Naptha bar, and using your cheese grater, shave the whole bar into your mixing bowl.  Next, add a cup of borax plus a cup of washing soda into the bowl, and mix all ingredients thoroughly until you achieve a powdery consistency.  Finally, empty your new homemade laundry detergent into your storage container.  One tablespoon is enough for a normal size load; for heavily soiled loads, use two tablespoons.  Now you are ready to do some laundry with your homemade detergent.
I've made several batches of home made laundry detergent now, and I don't think I'll ever go back to store bought again.
I hope some of you decide to give it a shot.  It's worth it = )
~ L.