A while ago, while commenting to win a pet portrait over at Young House Love blog, I realized we owed Argus  a well-deserved post.  He is, after all, our first boy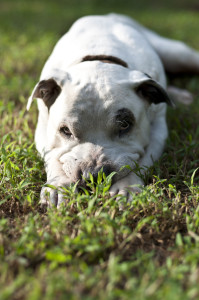 My comment reads, "He is the most stable, loyal and loving dog I have ever met.  Once, when a Mastiff crawled under a chain link fence into our yard and was coming straight at me with ill intent, Argus "wrestled" him (without barking, without growling, without biting, without even spiked fur) until the Mastiff was exhausted and delirious and just plopped on the ground.  After the Mastiff's owner came to take away his dog, Argus was like, "boy that was fun" and his tail wagged furiously.  Even though the Mastiff was aggressive, Argus did not show an ounce of aggression of his own.  He is the perfect dog who loves everyone.  He's always had an especially tender place in his heart for the elderly. He used to enjoy sitting on my husband's grandfather's lap (all 82 pounds of him) to watch tv, and he's been known to jump out of our car window to walk beside gray haired men on the sidewalk.

Even now, at over 12 years old, Argus' head is as soft as velvet.  His demeanor has not changed one bit – he is still an amazingly well tempered dog.  His courage and love have not diminished; his patience with everyone and everything has not faded.  His "just do it" attitude has not changed.  His age, however, is catching up with him, and he has slowed down quite a bit.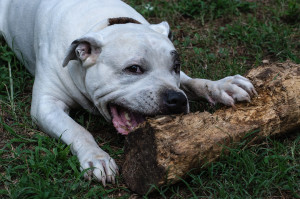 Seeing the big guy uncomfortable and in pain because of his arthritis made me realize that he isn't the invincible dog that I once thought he was.  He is mortal, just like everyone else.  Today, Argus weighs 70 pounds and is still an impressive specimen.  He still acts like a puppy at times, but he has slowed down quite a bit.  It hurts to see him age, and the thought of him not being around forever, hurts, especially with what is going on with Sasha.  Argus and Sasha came into our lives at about the same time and have been with us for over twelve years.  Now they are both in declining health, and thinking of the unthinkable is becoming a more frequent occurrence for me.  What will I do when the originals are gone?