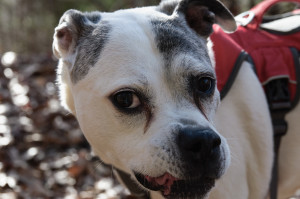 Hi everybody!  It has been a while since our last post, and some of you have asked for an update on how Sasha is doing.  Well, I am happy to let you all know that, as I am writing this post, Sasha is chillin' on her Big Shrimpy dog bed.  And I say that quite literally; Sasha is stretched out on the bed, and we have a fan blowing directly on her.  Cooler weather is on the way, but for now, Sasha needs fans to keep cool!
In our last post about Sasha, we wrote that she was feeling great, and we included a video of her playing with her 'frisbee'. Since then, Sasha has gone through some ups and downs.  She remained happy, healthy and active for a couple weeks after that post, but then there was a little incident.
Sasha started to show lameness in her arm.  It seemed to start one day after she got down from our bed.  We recently purchased a new mattress.  We decided to do without a frame or a box spring so that it would be low for Sasha's benefit.  We also have two dog beds at the foot end of our bed that we keep partly under our mattress so that they are stable and do not move so as to make getting down easier for Sasha.  Unfortunately, Sasha decided to get down onto another dog bed that we have next to our bed (Yes, we have many dog beds).  That particular bed was not secured under our mattress, and it slid out as Sasha stepped onto it.
At first, we didn't connect that incident with her new lameness.  In fact, we thought that she was experiencing pain in her left leg.  I suppose we automatically assumed the worst when we saw her stumbling around, and thought that the pain was coming from her leg or hip, where she has tumors.  I'm sure that if she still had both arms, it would have been obvious what was going on, but with only one arm and a leg with cancer, we were fooled.  I don't remember exactly what Sasha did that finally made it clear that her arm is where the pain was.  If I supported her front end, she would plant both rear feet firmly on the ground and support her rear without a problem.  If I removed support from her front end, she would collapse.
Unfortunately, Sasha is now clearly showing that she is feeling pain in her rear.  I babied her as much as I could once I realized that her arm was hurting her.  I carried her everywhere, and used her Ruffwear harness to help her do her business outside.  I figured that the cause of the pain that she was feeling in her arm was due to an injury from getting down off of our bed, and so by helping her to not use her arm, it might heal.  The good news is that her arm is feeling much better.  She is able to walk around now on her own, unassisted.  There is more to tell about Sasha's arm, and her health in general, but I will save that for another post.
–          A couple days have passed since I wrote the above part of this post and the part below –
Sasha came home from NC State today.  She had a bone scan performed on Tuesday, and she needed to spend the night at the hospital until she was no longer radioactive!  I'll write another post soon to update you all on her status.  Thank you to all who read this blog.  We appreciate the comments, e-mails and all the well wishes.  Liliana and I pass on all of your love and caring to Sasha.