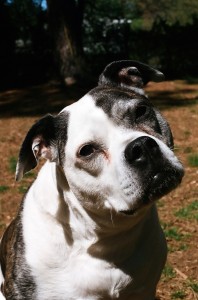 Monday, November 19, Sasha went in for her first bi-monthly post vaccine follow up at NC State Vet School.   Carlos and I were anxious to hear the results of Dr. Hauck's evaluation of Sasha.  The last time Sasha was at NC State, radiographs of her chest revealed a nodule that was of some concern to us.  Dr. Hauck, the radiologists at NC State, and Dr. Mason at UPenn felt fairly confident that the white cloud that appeared in the radiograph a month ago did not represent metastatic disease.  The experts' opinions helped put our minds at ease, but we were hoping for clear lungs this time round.
Sasha's lungs are clear!
We got the news that we wanted.  Sasha's lungs were clear!  There was no sign of metastasis!  Not even a single questionable cloud or mysterious nodule.  Dr. Hauck told us that Sasha checked out great, and that she appeared to be very happy and healthy.  Is Sasha an example of one of the very few dogs that might not have developed metastasis after amputation and chemotherapy, or do we have the Advaxis vaccine to thank for her continued good health?  I suspect we'll never know the answer to that question.  The longer Sasha is healthy, and in fact lives, the more likely that the vaccine had a role to play in her extended time with us.  To be honest, there is a part of me that only cares about having Sasha with us for as long as possible regardless of the reason.  There is another part of me, however, that realizes the enormous significance of a vaccine that is effective at fighting osteosarcoma in dogs – and hopefully in people too.  Either way, Liliana and I were happy to receive the good news from Dr. Hauck.