In light of recent news, I thought I would share this paragraph I wrote last semester, for my English 080 class.  The paragraph does not include the suggested corrections/changes made by my teacher.
Hope you enjoy it!
Selecting a puppy is not easy, but Carlos and Liliana would make a fun and exciting adventure of the process.  After they had been together for a couple of years and were now getting a place of their own, they wanted to expand the family.  Often they talked about how much they loved dogs.  After work, on a cool November evening, they took a trip to Frazer Zoo, located in Frazer, PA.  They were greeted by Andrew, an easy going guy and the owner of Frazer Zoo.  He was also the owner of Mesa, a gorgeous American Bulldog female.  Initially, Carlos and Liliana wanted a Pit Bull, but the apartment complex where they were moving to, would not allow that breed.  After meeting Mesa, they loved her look and friendly personality so much that they decided to look for an American Bulldog pup of their own.  A few days later, per Andrew's suggestion, they went back to Frazer Zoo to take a look at a new litter of pups.  To see seven puppies all together was exciting for Liliana, as she had never been around so many puppies before.  Birds were chirping, puppies were yapping, and the scent of cedar was strong in the air; the Zoo used cedar wood shavings as bedding for the animals.  The litter had five males and two females.  As the puppies played, barked and wrestled with each other, Carlos and Liliana watched them while pondering which one they would choose.  The couple was looking for a puppy with spunk.  They searched for one that was lively, not submissive to her litter mates and enjoyed attention from people.  After studying all the pups, they chose one of the females.  They were seduced by her frisky personality, her unique and beautiful brindle markings, and her sweet disposition toward them.  Now, the couple needed to think of a name for their precious girl.  Carlos and Liliana thought of several names for the puppy, and they chose Sasha.  The couple was not able take their new friend home with them for several weeks.  They were living in a place that did not allow pets, but soon they would move to a new place where Sasha would be welcomed.  While they waited to move into their new home, they visited Sasha every single day.  Liliana would take her out of her pen and carry her like a baby around the store.  She would grab treats from the "bag your own treats" section and feed them to Sasha, who seemed to enjoy them along with all the love, attention and special play time she was getting.  Even though they saw their friend daily, they were heartbroken to have to say goodbye to her at the end of each visit.  They would put her back in the pen with her brothers and sisters.  The bars on the pen door were like the bars on a jail cell door.  At least, that is how the couple felt.  Sunday January 7, 2001, was an exciting and emotional day as Carlos and Liliana finally took Sasha home.  Their first night together would be special.  For the couple, Sasha was like a new toy to a child on Christmas morning.   They played with her and took turns holding the new puppy.  When it was time to sleep, Liliana placed Sasha in her little bed and covered her with a blanket.  The couple said good night to the little girl as if she were a child, and then went in to their own bed.  Actually, the couple was using a pile of blankets as a bed because they had not yet gotten a new mattress.  An hour had probably passed before the couple fell to sleep.  They were too excited about the new addition to their family.  In the morning, Liliana was the first to wake, but Carlos soon roused from his dream world too.  Liliana told him to be careful, and motioned with her eyes for him to look between their two bodies.  Sasha had left her bed in the middle of the night and crawled between the couple.  She laid her head down on a little corner of Liliana's pillow like a tiny little person, and with that sweetness, Sasha had worked her way indelibly into Carlos and Liliana's hearts forever.  This was their first puppy, and she would become a very special member of the young family.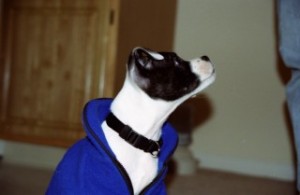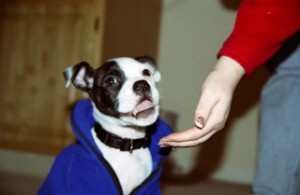 The paragraph was written in the third person, and I think it takes away some of the feelings that writing in the first person would evoke.
XO,
~L.