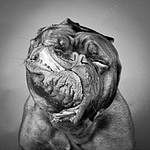 Carli Davidson does a beautiful job at capturing the strange and distorted faces of dogs shaking.  Her stop-action photographs of dogs (and one cat) show what happens to the loose skin and fur of our four legged best friend's faces when they shake their heads from side-to-side, as they do when they get wet.  The images are funny, with stretched skin, flying ears and lips, droplets of water in the air and an occasional stream of drool.  But these images are more than just comical – they are art.  Some are color, but most are black and white.  I will not guess which techniques Carli uses, nor which equipment, but the quality of the images looks to be superb.  The dogs are frozen in place with every detail in complete clarity.  If you are like me, you will find it difficult to allow your eye to wander away from these fantastically distorted portraits.
Please visit Carli Davidson's website to see more of her beautiful photography.  There you will find more shaking dogs, and various other images of animals including her collection of zoo animal images.
Click on the "snaps" tab at the top of lilisnotes.com to see photographs that Lili and I have taken.