After long and thoughtful consideration about our next steps in treating Sasha's caner, Carlos and I decided to proceed with Chemo.
Thursday, March 29, was our consult with Dr. Waddle, and turned out to be Sasha's first Chemo treatment.  Per our vet's recommendation, we went to Veterinary Specialty Hospital here in Raleigh, and spoke with the oncologist, Dr. Waddle.  After learning more about the treatment, side effects, cost, etc., we decided to move forward with treatment.  We ended up having to leave our girl at the Hospital for a full check-up, and the chemo administration which is given via IV.
We were sure that when we'd pick her up, Sasha would be disappointed and sad with us for having left her.  While we waited for Sasha, we went to the Fabric Mill Outlet.  We had wanted to check out the place for a while, but had not gotten around to going.  And now it was a good opportunity because it is next to the veterinary hospital.  We purchased some poly fill for extra stuffing for a few dog beds back home.  We also went to Durant Nature Park, a place where we often come with our dogs.  We walked the trail where we normally let our dogs swim.  During our walk, we scouted for other spots for Sasha to go swimming; now that she's a Tripawd, we wanted to find easier spots for her to get into the water instead of running and plunging like she used to do before the amputation.  After the park we drove around nearby neighborhoods and looked at houses.  We pointed out and talked about the ones that we liked and would like to live in.  We like the house where we currently live, but we would like to have a place with more land.  A ranch or a farm would be nice, and we think the dogs would agree.  After a couple of hours we headed back to pick up Sasha, but she was not ready.  The hospital was busy and her treatment got started later than expected.  Carlos and I were starving, so we headed to a nearby place to grab something to eat (more on this on a separate post).  After about an hour, we finished eating, and got in our car.  I was about to call the hospital because we couldn't wait to see our girl, but before I was able to dial, the call came in to come and get Sasha.
When we arrived at the hospital, there was a woman with her son and their Golden Retriever.  While waiting for Sasha, the lady asked us if we have been at it (fighting cancer) for a while.  We told her that Sasha has Osteosarcoma.  We mentioned that her right arm was amputated, and now she was receiving her first chemo treatment.  I asked her about her dog Chelsea, and the lady explained that she has some type of cancer, but after two biopsies, the doctors were still not sure what kind.  She was only able to tell us that the cancer was in her gastric system.  Chelsea is 10 years old.  We hope that she has as long and happy life like her sister who lived an astounding 18 years.
As my eyes start to get watery from hearing the news about Chelsea, the nurse brings Sasha out.  She was wearing a red bandana that says, "Hug Me.  I got Chemo today."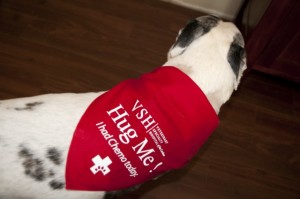 She comes out with a huge smile, which we did not expect, and when she sees us, her grin gets bigger.  Sasha notices Chelsea and goes to smell her.  Normally Sasha doesn't care about other dogs, but it seemed to me that she spent several more seconds with this girl than with other dogs.  Maybe it was her way of saying its OK – don't be scared.  I hope so.  We wished them the best of luck, thanked the techs and people at the desk, and headed out, Sasha leading the way, and pulling hard.
Still not believing how happy Sasha was -with her red bandana making her look, oh so pretty- we got her in the Jeep.  What is the first thing she does?  She hops from the rear seat and puts her left front paw on the center console between the driver's and passenger's seats!  This is amazing to Carlos and me, because it's the first time in over a month that she's done it.  She has always been our navigator.  And there she is again, on top of the console ready to go home and happy as can be.  We keep trying to coax her to get back, but she won't budge.  We are thrilled that she feels as good as she does, and wants to stand on the center console to help Carlos navigate his way home = )  However, after we start driving, Sasha does end up getting back, because it's difficult for her to keep her balance when Carlos applies the brakes.
On our way home, we drove with the windows down, and Sasha enjoyed taking in the smells, and feeling the wind.  Before going home, we need to take her somewhere to get some hugs.  We also needed to get dog food, so we stopped at Phydeaux.  We walked around the store for a little while. We let Sasha go anywhere she wanted in the store, and she seemed particularly interested in the section with pig ears, tendons, and other similar treats.  Three people saw Sasha hopping around, looking cute in her red bandana.  They came over to say hi and pay compliments to Sasha.  We didn't want her to overexert herself, so Carlos went to grab the bags of food, we paid and headed home.
Upon getting home, Sasha is greeted by the pack, and they so want to give her some sniffing attention.  Sasha heads outside to relieve herself, and then she plops on her bed to chill.  It isn't until about an hour later that we noticed Sasha seemed so tired that she even looked drowsy.  We quickly realized that she was having the lethargy side effect the oncology nurse told us about.  It was sad seeing her feel so sluggish, especially after how perked up she was earlier in the day.  Thankfully, the lethargy just lasted Thursday night.
Friday was a new happy day =)
XO,
~ L.
PS.  Sasha is my hero.