It was an overcast day.  The clouds were low and gray.  A few rays of sunlight found their way through the water-saturated air.  The light was the sort that makes photographers get excited.  The green trees, purple flowers and sandy ornamental grass seemed to glow with a vibrant saturation.  We expected Sasha to tremble in anticipation of the approaching storm, but she never did.  She wasn't always scared of thunder, but something changed in her, and now the rumbles make her crumble.
We had planned on going back to Philadelphia for Sasha's three week follow up on September,18, but Liliana just started a new job, and if we traveled to UPenn, she'd have to miss  at least one day of work.  Instead, we decided to take Sasha to the veterinary school at North Carolina State University which is about a 10 minute drive from our house.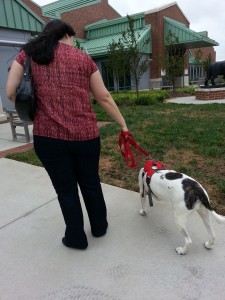 Sasha was in good spirits when we arrived at the Oncology building of NC State Veterinary School.  Her good mood would not last long, though, for as soon as we walked up to the front desk, she began to shake.  Her demeanor here was very similar to how she is when we go to our local vet's office, but a stark difference from how she is at UPenn.  I guess we will never understand what it is about UPenn that sits so well with Sasha.
After checking in, we sat down to wait for Dr. Hauck.  The waiting area is nice with comfortable seating, magazines for reading, Photo boards of surgical procedures that were performed at NC State, and photographs of cancer survivors.  There were also volunteer greeters working the area, and one of them came over to meet Sasha.  She sat down to speak with us for a while and also to give Sasha some attention.  She was very nice, and I think having her come over actually helped Sasha.  Usually when people come over to speak with us at vet's offices or hospitals, those people poke Sasha with needles, stick foreign objects in her butt, or take her away from her mom and dad.  This lady was different, and Sasha appreciated that!
When Dr. Hauck came out into the waiting area, she quickly scanned the area with her eyes and locked onto us when she saw Sasha.  She came over, introduced herself and then sat down and spoke with us for a while about our girl.  Dr. Hauck is a very nice person, and we quickly felt comfortable with her taking care of Sasha.  After a few minutes, she led us into one of the examination rooms.  While there, she talked to us about what was going to happen with Sasha that day.
After helping the doctor get a weight reading on Sasha, we said our goodbyes, and watched as Dr. Hauck led Sasha down a hallway, away from us.  Now it was onto our normal day, minus Sasha, and we would wait until 5pm when we could return to pick up ol' three legs.
When we arrived back at NC State, Sasha was very happy to see her mom and dad.  She had clearly warmed up to Dr. Hauck, but she was ready to go home. Before we could leave, we needed to speak with the doctor about the results of Sasha's examination.  Her blood work came back completely normal, and so did her urinalysis.  We were happy about her good blood and pee-pee, but we were anxious about something else.  If you recall, a small cloud appeared in the last radiographs taken at UPenn when Sasha was there for her third and final treatment with the Advaxis Listeria Monocytogenes vaccine.  Today we would find out if that cloud was still present in Sasha's new X-rays.  We did a lot of finger crossing, hoping and wishing, so we were extremely happy to find out that the cloud was gone!   But, there was something else.
The cloud that appeared in the last radiographs taken at UPenn disappeared, but there was now a new cloud in another area of Sasha's chest.  Obviously, our hearts sank when we learned of the new cloud, but Dr. Hauck explained that we shouldn't be alarmed.  The new spot was very similar to the first one.  It was small, and they were not able to determine what it was.  It might have even been an artifact in the radiograph.  On the other hand, the spot could, in fact, be cancer.  This sounds like a terrible thing, but Dr. Hauck gave us another way of looking at things.  If the first cloud (from the radiographs taken at UPenn) was cancer, but now is no longer visible, then perhaps the vaccine is doing exactly what it was developed to do.  Sasha returns to NC State on 10/15 to have more radiographs taken of her chest.  We will be waiting with abated breath for the results of the new radiographs.