After hours of reading, Carlos and I talked about our options to treat Sasha.    If we did nothing, she would be with us for maybe 6 months, but likely much less than that, and most of the time, she would be in a lot of pain and not able to enjoy herself and be happy.  So, amputation seemed like our best option for our girl.  It will provide immediate pain relief, and on average, dogs live for about 370 days, so we'd have a year (more if we are lucky) with her.  After her recuperation, we plan on doing all the things she loves.
For now, we just had to wait for 4:30 pm so that we could pick up our girl.  It seemed to take forever.  Once it was time, all I wanted to do what see and hug Sasha, but we had to speak with our vet first and we asked him to get us a quote for the surgery.  He informed us of our options, which was everything Carlos had already read.  He supported us on the decision we were leaning towards and we appreciate that, he knows the type of people and owners we are, and knew it was the best decision.
When Sasha was brought out, she looked SO happy, her tail wagging, ready to go home.  Her happy face is embedded in my mind.  Once home, we got her comfortable and I lay with her for a while.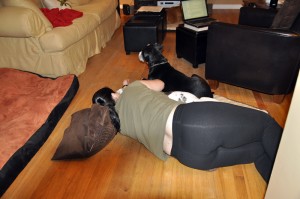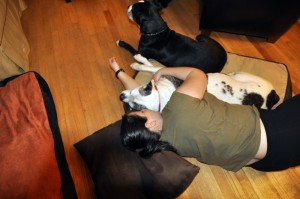 Tommy wanted to be close to Sasha.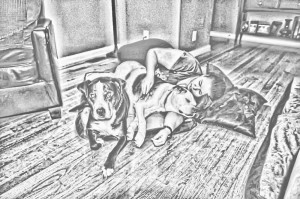 My favorite picture.  I like pencil drawing.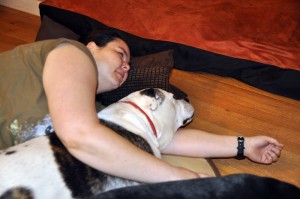 Sasha stayed on my arm for a while, which is strange because she's not a cuddler.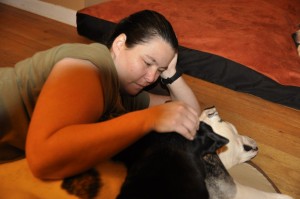 Tommy wanted to be close to her as well, and near her 'wound.'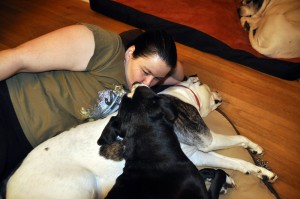 Tommy moving in for a lick.  Alli near, on the other bed.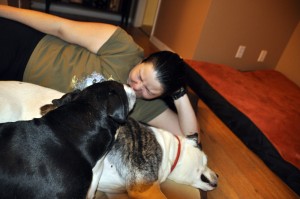 And he got to lick my nose.  He was really sweet, and Sasha didn't mind him being that close.
Dogs, they sure make our lives whole.