The last couple of weeks have been hectic, and I didn't get around to posting my  "Lazy Sunday" posts.  However, here is a belated Lazy Sunday from last week  – better late tan never, right?! =)
Lazy Sunday
This past  Sunday it was Father's day, so Happy belated Father's day to all the dads out there.  I called my dad, and had a nice long conversation with him.  He and my mom live in Tucson, AZ and we haven't seen each other since June of 2010.  It was nice to talk to him and we didn't have any disagreements!  I talk to my mom about once a week, but my dad is not one to talk on the phone much, so to talk to him for over an hour was pretty awesome! I hope everyone had a great Sunday celebrating.
Carlos and I talked about a few home projects we could do that would be inexpensive even for our current financial situation.  In a week or two, Carlos' parents will be visiting in Raleigh for the first time, so we are busy bees doing a few things for the house to look a little nicer than it does now.
So, some of the projects that we will tackle -not in order of importance- are:
install molding in the fireplace living/dining room.
finish a part of the kitchen wall (spackle, sand, prime, and  paint).
connect laminate and hardwood floors.
finish railing on the larger deck area.
I might try to finish sanding a coffee table.
power wash the carport and the back of the house (deck area).
install new light covers.

attempt to repair the wall of the storage room on the back of the house  – likely we won't be able to do this due to cost and time, but we'll try = )

organize both storage rooms
A couple minor house cleaning projects I'd like to do are:
clean all the windows.
wipe down kitchen cabinets.
clean shower/tub.
We've got our hands full, that's for sure.  We immediately got to work, and purchased all the molding on Sunday.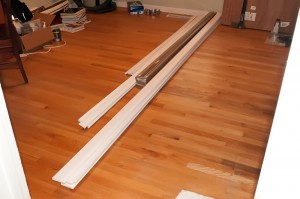 The stuff between the molding  are the quarter rounds that came with the laminate flooring and the transitions that we will install to connect the laminate floor to the hardwoods.
All the molding is painted and ready to be cut and installed.
Sunday at Lowe's, I purchased a mop head.  I was using a Method mop kit, but I grew tired of it because it's kinda small, it covers a small surface area, so it takes a long time to mop the floor.  I grew up using what I call a typical mop and I feel this type of mop does a better job.  The dogs were curious about the mop head and wanted to check it out, so:
Last but not least:
It was fun putting the mop head on the dogs, and they were really good about leaving it on.  Of course they had to be rewarded with treats = )  I had a little bit of ice cream as a reward for having my picture taken with this thing on my head, and then posting it for everyone to see.
Another thing that got done on Sunday, Carlos seasoned our cast iron pans.
Don't mind that dirty pan in the back, I had just cooked some chicken for lunch =)
I'll be sure to post updates as we accomplish our projects.