As I said in yesterday's post, here is a recipe for Chocolate Protein Bars.  This recipe can be found on www.Bodybuilding.com.  Please note, I have tweaked it just a bit and you may do so yourself for your needs.
Chocolate Protein Bars
Ingredients:
1 cup Oat Flour
4 Egg Whites
2 scoops BSN Chocolate Milk Shake or Gaspari Nutrition Chocolate Peanut Butter
½ cup Stevia
½ tsp Baking Soda
¼ tsp Salt
8oz Apple Sauce
3 tbsp Baking Cocoa
4oz Water or Almond Milk
Directions:
Preheat oven to 350 degrees.
Mix dry ingredients (oat flower, protein powder, Stevia, baking soda, salt, and baking cocoa) together in a large bowl.
Mix wet ingredients (egg whites, Apple Sauce, Water or Almond Milk) together in a medium sized bowl.
Add wet ingredients to dry ingredients and mix together.
Spray cooking dish with a non-stick butter spray and add batter to dish.
Bake 20-30 minutes in oven.
Makes 16 squares, serving size=2 bars.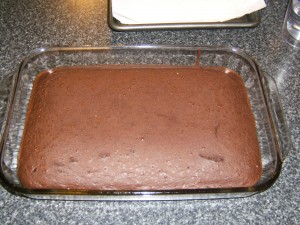 When I make these bars,  I double the recipe, that is why you see a larger Pyrex dish.

Enjoy.  We did!
~ L.