Happy Tuesday!  I hope everyone's week is going well.
I wanted to share something with y'all.
Some people collect pens, stuffed animals, nutcrackers or something else.   I admit.  I'm not a collector but rather I would call myself a hoarder…of bookmarks!!  Take a look.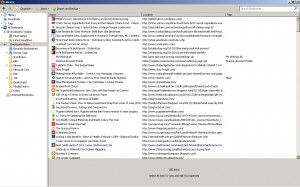 A total of 387.  Three hundred and eighty seven.  Isn't that crazy?!  I think so.  Once in a while I do 'organize' the bookmarks and delete a bunch of them, but as I'm sure you can imagine, I find more and more and more.
I'm planning on 're-organizing' my favorites, yet again.  I think I will create folders and then sub-folders and will try not to keep as many.  Maybe cut them in half.  We'll see.
How do you organize your favorites?  Do you have a tone like I do?!