Early in the week I needed to come out with a way to cook a bunch of chicken I had along with some veggies I had not cooked.
This is what I made: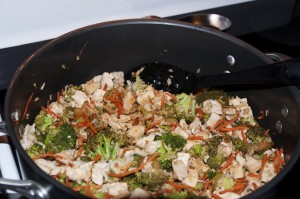 I started by cooking the chicken in a large dutch oven (I have limited pots/pans).  I used organic coconut oil.
I got all the veggies ready and stir fry them in the dutch oven with coconut oil.  I used broccoli, carrots, and zucchini.  I added about 1/4 c. of low sodium soy sauce and about 1/4 c. stir fry sauce I had.
While the veggies were cooking a little, I cut up the chicken into small pieces.  After about 5 minutes, I added the chicken and added a little more soy sauce and stir fry sauce.  Last I added 3/4 c. cooked brown rice.  Mix everything and serve = )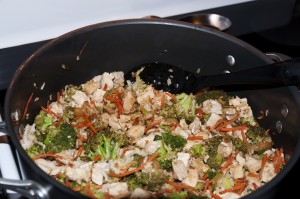 It came out really good, and its a great recipe to make for the week.  We got 6 servings out of the dish, 3 per person.
Ingredients:
2 lbs. of chicken (@ The Fresh Market)
2 bags of broccoli (@ TJ's)
1/2 bag shredded carrots (@ TJ's)
2 medium zucchinis (@ TJ's)
3/4 c. of brown rice (@ Whole Foods)
low sodium soy sauce
stir fry sauce
Next time, I plan on adding some red and green peppers and mushrooms.  I think it would be really good to make it a little spicy.  I've been a  little sensitive to spicy food, so I skipped it = )
This is a dish I plan on making on a regular basis.  Perfect for lunch or even a mid-afternoon snack.  I am not one to freeze food, but I bet it would freeze OK, making it better if larger amounts are cooked.
Enjoy!