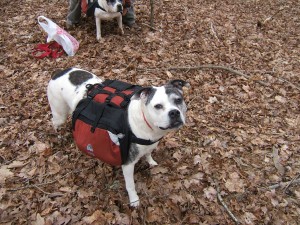 Back in August, we took Sasha to the vet and to see an orthopedic surgeon because this was going on.  At that time, X-Rays were taken of her paw and wrist but nothing above that.  The X-Rays didn't show any signs of fractures or anything else.  She got a couple of medications and within 24 hours, she was back to her spunky old self.  It was a relive and her condition remain a mystery.
For months she was normal and we continued with our normal routine or playing in the yard with sticks and frisbees.  We continue going for walks at our parks, which she absolutely loves.  We had been planning on going to the beach and camping with the whole gang, because we don't have dog sitters and it would be so costly to leave them in a kennel.  Earlier this year, we noticed she was limping again.  At times, she would be really spunky and run in our yard, but then something would hurt and she'd squeal. This happened a couple of times before we decided to limit her activity in hopes her"injury" would heal.  After about a month of her leg not getting any better, we decided to take her to see our vet, Dr. N., again.  She showed very brief sings of pain and where exactly the pain was, was undetermined.   With these results, our vets asked us to allow for normal activity to aggravate the injury and find it, in order to correct it.  As much as I didn't want her to hurt more, we allowed her to do what she wanted in the yard, but only took her for short walks around the neighborhood.  After two weeks, her "injury" worse.  We scheduled another appointment with our vet and Dr. Clary, our orthopedic surgeon, was going to re-check her.
Through out this time, my heart's been heavy.  I feared the worst and though I love all my dogs, Sasha and I have a special bond and I love her to death.  I did grow up with dogs, but they were always outside and they were not "my" dogs, they were mainly my brother's.  Sasha was my first dog.  Out of a litter of seven pups, we had chosen her sister, but after seeing how spunky Sasha was, we switched our decision.  From the day we chose her, we visited her every day until we could take her home with us, and that was probably about a month.  So every day, we would leave work and go to see her, and this was no different during the weekend.  Our first priority was to go visit Sasha and spend a good couple of hours with her.
Her appointment was scheduled for Tuesday March 6th and we were to drop her off as early as possible.   Around noon,  I received a call from Dr. N.  It was the worst news I could possibly hear.  All I recall Dr. N. saying is, "its not good news",  and "Sasha has Osteosarcoma on her right leg's humerus."  I could not bare to continue listening, so I handed the phone to Carlos.  My heart sank, I couldn't breath, and all I could think of was how Sasha is supposed to live forever, and wondering why this was happening to her, its not fair.  This day so quickly became one of the saddest days of my life.

I know it is not fair, but I always thought (expected really), that Sasha would live to be at least 15 years old.  I thought we might loose Argus first.  I know its not right to think this way and I do love all of our dogs very much, but Sasha is my baby.  She was the first puppy Carlos and I got and I recall those times as if they were yesterday.  Her and I have a special bond.
After the devastating phone call, Carlos and I sat together for a while, just thinking about Sasha and how much we love her.  Carlos kept saying he was sorry, because she is my girl.  Then Carlos started telling me with our vet said were our options.  And he right away started reading all he could up until we could go pick her up…