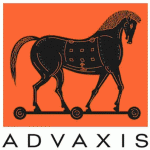 Here on Lili's Notes, we've been writing about Sasha's battle against osteosarcoma, and her progress in the Mason Bone Cancer Study at The University of Pennsylvania's School of Veterinary Medicine.  If you've been following Sasha's story, then you know that she just finished her second treatment at UPenn, where Dr. Mason administered the anti-cancer vaccine.  We are happy to report that Sasha has tolerated the vaccine quite well to this point, and she remains happy and healthy.  We love our dogs, and our primary concern throughout this whole experience has been Sasha's well being; however, as time passes and our three legged dog seems to be out of the way of immediate harm, it seems only fair and deserved that we recognize the company that is responsible for creating the vaccine that Sasha has been fortunate enough to receive.
The name of the vaccine is ADXS-HER2, and the company that makes it is Advaxis.  As our readers know, ADXS-HER2 is in phase 1 veterinary trial for canine osteosarcoma.    Here is what Advaxis has to say about ADXS-HER2 on their website:
ADXS-HER2 is an immunotherapy that targets HER2 over-expressing cells. By incorporating HER2 into the Advaxis live, attenuated vector, Advaxis intends to deliver the HER2 antigen fused to the powerful immunostimulant LLO, directly inside antigen presenting cells that are capable of driving a cellular immune response to HER2 over-expressing cells. The Advaxis approach is also designed to inhibit the Treg and MDSC cells specifically in the tumors that have been promoting immunologic tolerance of the cancer cells.

In concept, eliminating HER2 positive cancer cells with cellular immunity may help prevent the development of resistance that sometimes occurs with antibody treatment, as well as more effectively track down and eliminate potential metastases in the brain of patients with breast cancer.

HER2 (human epidermal growth factor receptor 2) is a gene which is over expressed in a percentage of certain types of cancers such as breast, gastric, bladder, pancreatic, brain, and ovarian. The American Cancer Society estimates that in 2011 in the US there will be 230,480 diagnoses of invasive breast cancer, 21,520 new cases of gastric cancer, 69,250 new cases of bladder cancer, 44,030 new cases of pancreatic cancer, 22,340 new cases of brain/spinal cord cancer, and 21,900 new cases of ovarian cancer. For additional information, please visit: http://www.cancer.org/.
We have very high hopes for the potential efficacy of ADXS-HER2 in fighting the return of, and the metastasis of the osteosarcoma that claimed Sasha's leg.  We also know that the potential good that this vaccine can bring is much greater than just extending the life of our beloved dog.  We hope that ADXS-HER2 is a fantastic success in human populations as well.  Cancer is indiscriminate in the pain it causes so many people all over the world.  Let us all hope that Advaxis has created something that will quell the suffering of millions.